10 by 40 House Plan
If you find 10 by 40 house plan with government approved authority it means approved submission drawing with valid banks for loan purposes and personal uses so you have come to the right website www.civilnotebook.com . Here you will get the free pdf of 10 by 40 feet submission drawing also with the estimate and full material details and specification.
10 by 40 House Plan Specification
Welcome to our website. Here we will tell you about the specification of 10 by 40 feet house plan 2BHK G+1, the details of which are as follows. 16′ by 51′ house plan.
Area Calculation 10′ by 40′ House Plan
Note – All dimension are in meter.

Note – Map has been made as per the customer's requirement. (10 by 40 house plan)
Total plot area as per site – 40.47sqm
Left for road widening – Nil
Ground floor Built up area – 37.16 sqm
Ground floor area (Parking) – Nil
Ground floor area (Residential) – 37.16 sqm
First floor area (Residential) – 37.16 sqm
Total built up area – 74.32 sqm
Floor area ration – 0.92
% of covered area – 91.83%
% of open area – 08.17%
% of parking area – Nil
Height of building – 3.62 m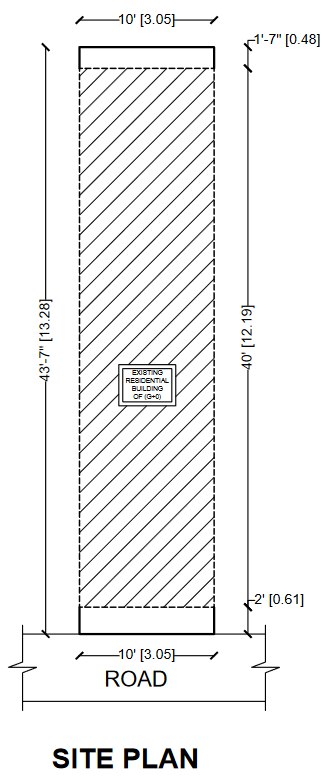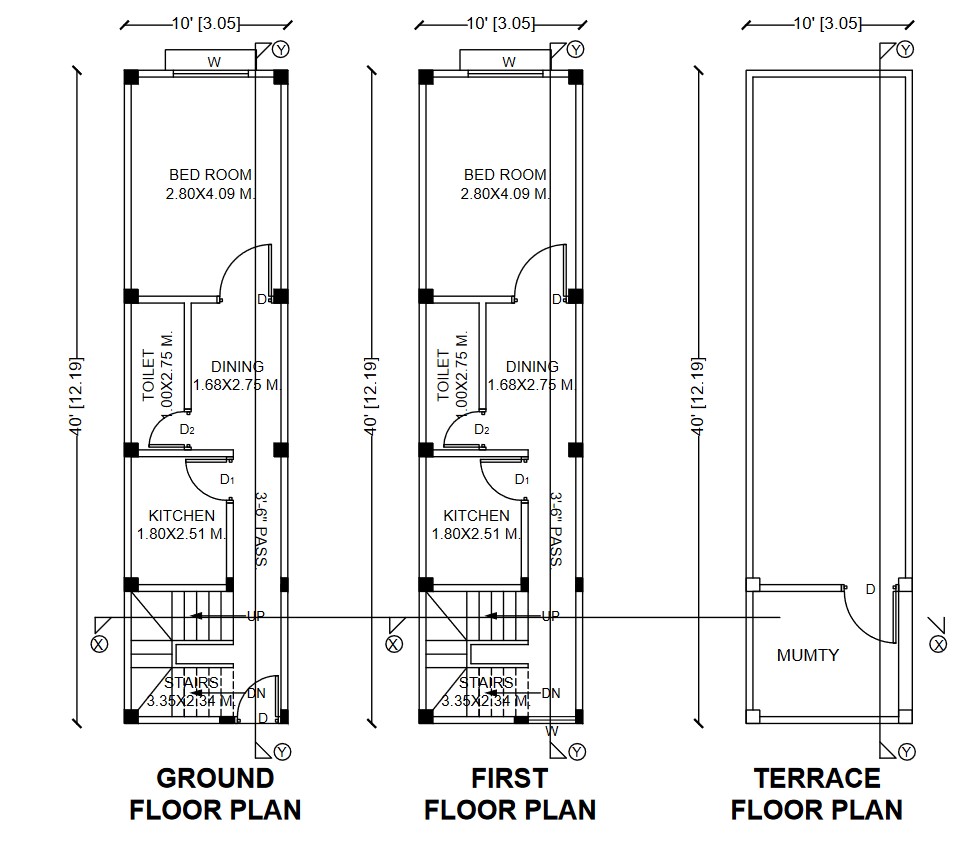 Specification 10 by 40 House Plan
Foundation R.C.C under reammed pile foundation 8.0m deep with proper re-inforcement.
Super structure 1st class brick work in super structure with cement mortar (1 : 6)
Plinth height ground level and plinth level as shown in section.
Flooring 25 mm thick I.P.S. flooring over 125 mm thick. Dry reammed khoa over 75 mm thick. Brick flat soling over sand filling.
Roof 0.10m thick average lime terracing over R.C.C. roof slab. 10 by 40 house plan
Doors chowkhats of doors to be sal wood.
Windows all windows to be fully glazed in steel frame.
Plaster 12 mm thick cement plaster on both side of brick wall.
Colouring colour or white wash as per choice.
Schedule of Door & Window 10′ * 40′ House Plan
| | | | | | |
| --- | --- | --- | --- | --- | --- |
| Sl. no | TYPE | WIDTH | HEIGHT | CILL | DESCRIPTION |
| 01. | D | 1.07 m | 2.13 m | 0.00 m | SINGLE / DOUBLE LEAF DOOR |
| 02. | D1 | 0.91 m | 2.13 m | 0.00 m | SINGLE / DOUBLE LEAF DOOR |
| 03. | D2 | 0.76 m | 2.13 m | 0.00 m | SINGLE / DOUBLE LEAF DOOR |
| 04. | W | 1.22 m | 1.37 m | —— | DOUBLE / TRIPLE LEAF WINDOW |
| 05. | W1 | 0.91 m | 1.37 m | —— | DOUBLE / TRIPLE LEAF WINDOW |
| 06. | W2 | 0.61 m | 1.37 m | —— | DOUBLE / TRIPLE LEAF WINDOW |
| 07. | V | 0.61 m | 0.46 m | —— | FULLY GLASS VENTILA |
Schedule of Doors & Windows for 10 by 40 house plan
10 by 40 House Estimate
ESTIMATE
Reference – Estimated cost of finishing with materials and it's labour charges for 10 by 40 house plan to existing residential building owned by
Owner – www.civilnotebook.com
ESTIMATED AREA 10 BY 40 HOUSE PLAN
Total Plot area – 435.60 sq feet – 40.47 sqm
Ground floor area – 400 sq feet – 37.16 sqm
First floor area – 400 sq feet – 37.16 sqm
Total Rs – 732400.00 ( Sevan lac thirty thousand four hundred only rupees )
---
Ground Floor Estimate
Sl. No.
Particulars /Items of Work
Unit
Quantity
Rate
In Rs.
01.
Provided shall wood chowkhat in doors and windows 4″x3″ thick include cost of materials and labour charges.

NET – 1.86 cft
Cft
1.86
2800 / cft
5,208.00
02.
Provided season wood shutters in all doors and windows including the cost of materials and labour charges.

NET – 11.24 cft
Cft
11.24
2800 / cft
31472.00
03.
Provided ¼" thick cm plaster in ceiling in cm (1:5) including the cost of materials and labour charges.

NET – 400.00 sft
Sft
400.00
40 / sft
16000.00
04.
Provided ½" thick cm plaster both side on all walls in cm (1:6) including cost of materials and labour charges. 10 by 40 house plan

NET – 2245.00 sft
Sft
2245.00
45 / sft
1,01,025.00
05.
Provided 1″ PS flooring over 6″ dry rammed khoa over one flat brick soling including all cost.

NET – 400.00 sft
Sft
400.00
10 / sft
4,000.00
06.
Applying cement paint of approved brand and manufacture over cement plastered surface.

As per item No. 03 = 400.00 sft
As per item No. 04 = 2245.00 sft
Total = 2645.00 sft
Sft
2645.00
10 / sft
26,450.00
07.
Applying one coat of cement primer of approved brand and manufacture on wall surface, cement primer

NET – 2645.00 sft
Sft
2645.00
10 / sft
26,450.00
08.
Providing & fixing MS Grill of requirement pattern in frames of windows etc with MS flats, square or round bars etc all complete job as per design & drawing specification & direction of E/I

NET – 150.00 kg
Kg
150.00
92 /kg
13,800.00
09.
Finishing wall with water proofing cement paint of approved brand and manufacture and of required shade to give an even shade

NET – 2645.00 sft
Sft
2645.00
10 /sft
26,450.00
10.
Providing and laying ceramic glazed floor tiles 600×600 mm thickness to be specified by the manufacturer of its quality conforming to is 15622 of approved make in colures such shades except white ivory grey fume red brown laid on 20mm thick cement mortar 1:4 including pointing the joints with cement and matching pigment etc. complete

NET – 400.00 sft
Sft
400.00
70 /sft
28,000.00
11.
Providing and fixing 1st quality ceramic glazed wall tiles conforming to IS : 15622 (Thickness to be specified by the manufacture) of approved make in all colours, shades except burgundy, bottle green, black of any size as approved by Engineer in-charge in skirting, risers of steps and dados over 12 mm thick bed of cement Motar 1:3 (1 cement: 3 coarse sand ) and jointing with grey cement slurry @ 3.3 kg per sqm including gpointing in white cement mixed with pigment of matching shade complete.

NET – 200.00 sft
Sft
200.00
85 /sft
17,000.00
12.
Providing and Fixing 20mm thick black granite marble ………………………e/i

NET – 352.49 sft
Sft
352.49
105 /sft
37,011.88
Total Ground Floor Cost
3,32,866.88
10 by 40 house plan for ground floor estimated
Total ground floor finishing work 10 by 40 house plan cost Rs 3,32,866.88
Add, 5% for providing electrical including cost of complete job Rs 16,643.34
Add, 5% for providing plumbing including cost of complete job Rs 16,1643.34
Total Cost = 3,66,153.56
Say = 3,66,200.00 (Rupees Three Lac Sixty Six Thousand Two Hundred Only.)
---
First Floor Estimate
Sl. No.
Particulars /Items of Work
Unit
Quantity
Rate
In Rs.
13.
Provided shall wood chowkhat in doors and windows 4″x3″ thick include cost of materials and labour charges.

NET – 1.86 cft
Cft
1.86
2800 / cft
5,208.00
14.
Provided season wood shutters in all doors and windows including the cost of materials and labour charges.

NET – 11.24 cft
Cft
11.24
2800 / cft
31472.00
15.
Provided ¼" thick cm plaster in ceiling in cm (1:5) including the cost of materials and labour charges.

NET – 400.00 sft
Sft
400.00
40 / sft
16000.00
16.
Provided ½" thick cm plaster both side on all walls in cm (1:6) including cost of materials and labour charges.

NET – 2245.00 sft
Sft
2245.00
45 / sft
1,01,025.00
17.
Provided 1″ PS flooring over 6″ dry rammed khoa over one flat brick soling including all cost.

NET – 400.00 sft
Sft
400.00
10 / sft
4,000.00
18.
Applying cement paint of approved brand and manufacture over cement plastered surface.

As per item No. 03 = 400.00 sft
As per item No. 04 = 2245.00 sft
Total = 2645.00 sft
Sft
2645.00
10 / sft
26,450.00
19.
Applying one coat of cement primer of approved brand and manufacture on wall surface, cement primer

NET – 2645.00 sft
Sft
2645.00
10 / sft
26,450.00
20.
Providing & fixing MS Grill of requirement pattern in frames of windows etc with MS flats, square or round bars ete all complete job as per design & drawing specification & direction of E/I

NET – 150.00 kg
Kg
150.00
92 /kg
13,800.00
21.
Finishing wall with water proofing cement paint of approved brand and manufacture and of required shade to give an even shade

NET – 2645.00 sft
Sft
2645.00
10 /sft
26,450.00
22.
Providing and laying ceramic glazed floor tiles 600×600 mm thickness to be specified by the manufacturer of its quality conforming to is 15622 of approved make in colures such shades except white ivory grey fume red brown laid on 20mm thick cement mortar 1:4 including pointing the joints with cement and matching pigment etc. complete

NET – 400.00 sft
Sft
400.00
70 /sft
28,000.00
23.
Providing and fixing 1st quality ceramic glazed wall tiles conforming to IS : 15622 (Thickness to be specified by the manufacture) of approved make in all colours, shades except burgundy, bottle green, black of any size as approved by Engineer in-charge in skirting, risers of steps and dados over 12 mm thick bed of cement Motar 1:3 (1 cement: 3 coarse sand ) and jointing with grey cement slurry @ 3.3 kg per sqm including gpointing in white cement mixed with pigment of matching shade complete.

NET – 200.00 sft
Sft
200.00
85 /sft
17,000.00
24.
Providing and Fixing 20mm thick black granite marble ………………………e/i

NET – 352.49 sft
Sft
352.49
105 /sft
37,011.88
Total First Floor Cost
3,32,866.88
10 by 40 house plan for first floor estimated
Total first floor finishing work 10 by 40 house plan cost Rs 3,32,866.88
Add, 5% for providing electrical including cost of complete job Rs 16,643.34
Add, 5% for providing plumbing including cost of complete job Rs 16,1643.34
Total Cost = 3,66,153.56
Say = 3,66,200.00 (Rupees Three Lac Sixty Six Thousand Two Hundred Only.)
Total ground floor cost = Rs. 3,66,200.00
Total first floor cost = Rs. 3,66,200.00
Total = Rs. 7,32,400.00 (Seven lac thirty two thousand four hundred only)